Take your site to the next level with custom surface equipment and field services
Tough well-sites need tough field support
Tips, Tricks, & Advice
Years in the Basins have given us invaluable experience. We know how to dodge all the common pitfalls and tackle any obstacle.
Equipment Designed to Your Needs
Custom fabrication for hardcore, results-driven operations. Pumps. Trailers. Coolers. Tanks. You name it, we can build it. Or retool it.
Back-Up
Like any good wingman, our field service, machinery, and repairs are there when you need us. With field locations in multiple states, you'll always have an ally.
Use our years in the basins to your advantage

Cortex equipment always comes packaged and ready to plug-and-play into our field. The team is very responsive to our needs. Great team and products!"

Robert
Production Foreman

Cortex was an outstanding company to work with. Their team assisted us in the design and engineering process as we customized the equipment so that the operators had all the features they needed. Once the equipment hit location, Cortex was on-site to help with the startup. They made sure we had all the resources we needed so that the equipment was brought online and functioning as designed. A great experience overall!

Derek
Vice President of Completions and Production
Take control of your well-site
Take the initiative. Be proactive. Whether starting from scratch or jumping in mid-project, we'll evaluate your needs and create a plan.
We live for getting our hands dirty in the field. Together, we'll enact your plan with an eye on your goals. Your finely tuned operation will be the industry standard.
3. Know who's got your back
We're here for you – even after the job is done. Whatever you need, whenever you need it. Give us a call, and we'll be there. No bat-signal required.  
Real people. Real-world experience.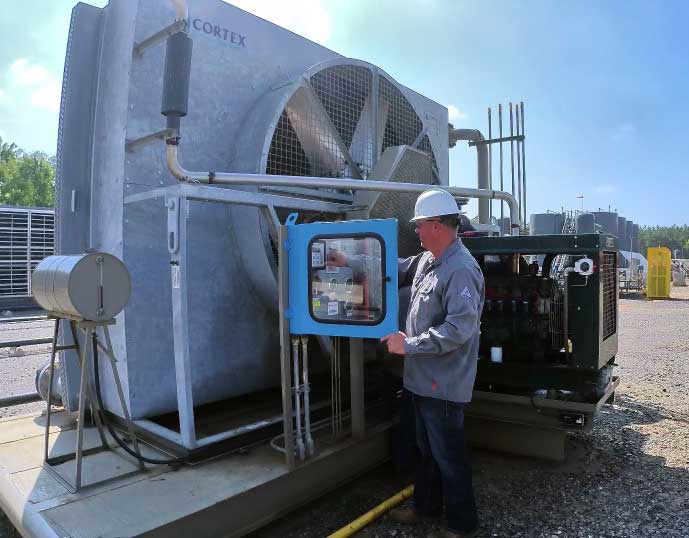 Cortex Process Equipment has over 50 years of experience supplying premium well-sites with the industry's smartest solutions, project management and field services.
Extreme, limit-pushing environments are where we feel most at home. We exist to operate in the field, with boots-on-the-ground people like you. With Cortex you get: